quote

The Import/Export Center has been very helpful, however, it does not allow me to export customers based on a specific location, orders that include a particular product, etc.

How do I export spreadsheets that target specific information?


To export spreadsheets for customers, products, orders, etc. based on specific rules, it is recommended to use their corresponding search page (Search Customers, Search Products, Search Orders, etc.). Most search pages will include export options in the bottom action menu, such as:

export only SELECTED ('d)
export matching search results
export ALL

As an example, we will search for orders that were placed within a specific date range using the Search Orders page. Then, using the export options available on the search page, export the orders that match the search results.

1. In the Administration Area, locate [Orders > Search Orders].
2. Search for: Orders that match rules below.
3. For this example, we will be searching for orders between January 1st - December 31st 2012.



The search will consist of orders placed between January and December for the year 2012.
4. Click Search.
5. Once the results have loaded, scroll down to Perform an action on the rows selected above...

In the dropdown menu, there will be 3 different Export Options, but for our current purposes we will want to select export orders matching search results.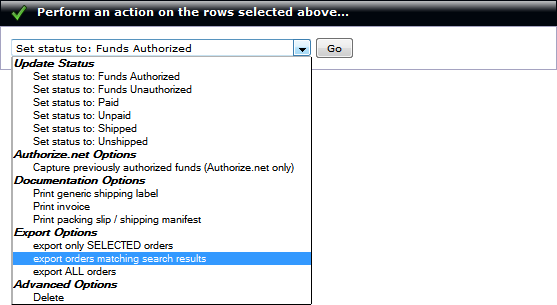 6. Click Go.

This same approach can be taken on other search pages to perform a targeted data export.