overwriting thumbnail images

I want some of my products to have custom thumbnails, not the auto generated ones. How do I upload and override thumbnails? And, will future uploads overwrite them?


Thumbnail images are saved in the corresponding "thumb_m", "thumb_s" and "thumb_b" subdirectories contained within the image directory.

For example, if the large version of an image is located at: /images/samples/my_image.png, then:
the medium version will be located at: /images/samples/thumb_m/my_image.png.
the small version will be at: /images/samples/thumb_s/my_image.png
the basket version will be at: /images/samples/thumb_b/my_image.png

The shopping cart creates these images when the large images are uploaded. These default images can be replaced by using FTP to upload a different image file with the same name into the corresponding thumbnail directories.

Regarding the question of whether future uploads will overwrite the customized thumbnail images, that is an option available when the images are uploaded. The image upload too, located at [Design > Upload Store Graphics] contains the option titled How should duplicates be handled. (See sample image below.)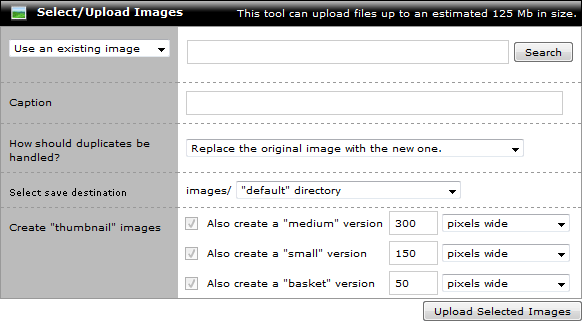 This option can be set to either Replace the original image with the new one, or Keep the original image. This option controls whether or not any customized thumbnail images will be overwritten when the updated large image is uploaded.