The Customer Account Area is the section of the storefront where a customer may log in to view their account information and history. The Customer Account Area includes the customer's order history, contact information, payment information, wish lists, customer news, etc.


Sections of the Customer Account Area.


The different sections of the customer's Account Area will be covered in detail below.



note

Example screenshots taken using the

athena template package

. The look, feel and features of the Customer Account Area may vary from template package to template package.

Customer Purchase History


The Customer Purchase History section displays all orders the customer has ever placed within the store. Any order that contained digital objects (downloads) will include a Download Password that links to the Download Area.

In addition to order history, this section also displays any active subscriptions the customer has to products in your store, along with a link to cancel.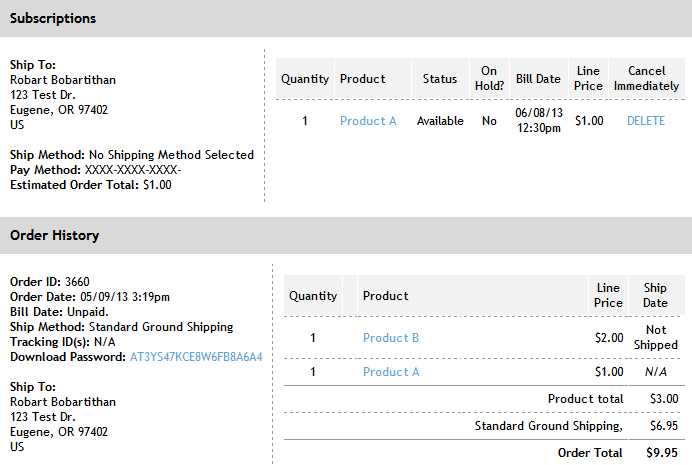 Customer Purchase History

Customer Contact Info


The Customer Contact Info section contains the customer's billing address, shipping address(es), and account information. This section gives the customer the ability to add or alter their addresses, as well as their email and password.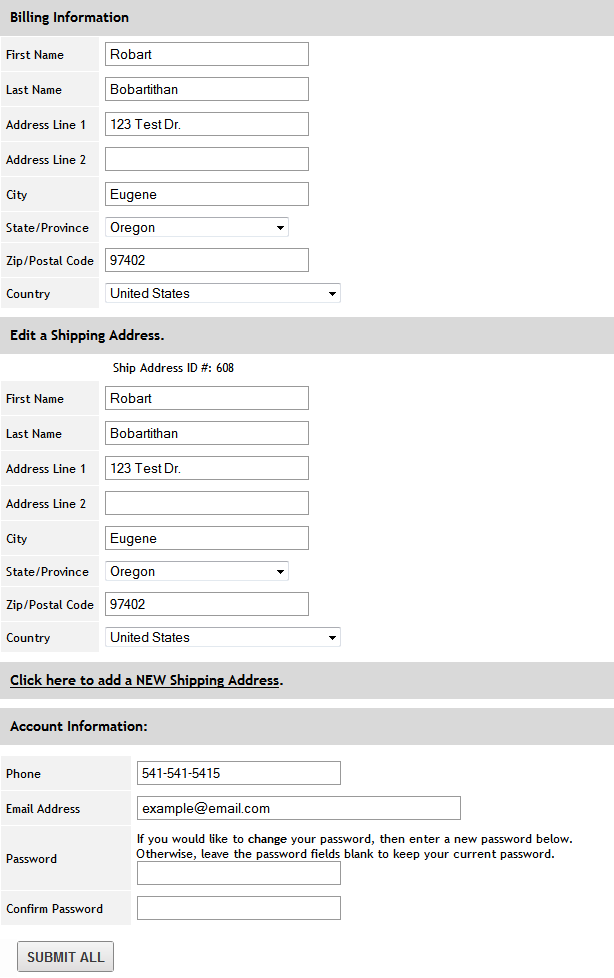 Customer Contact Information

Customer Payment Info


The Customer Payment Info section allows the customer to add/change/delete their saved credit cards. Customers have the ability to apply one of their saved credit cards to their subscriptions. Reward point accumulation is also recorded in this section.

The Secure Quick-Selection Credit Card Menu can be enabled here, to display a secure list of that customer's credit cards on the checkout page when they are logged in. This way, the customer does not have to re-enter their credit card info during future transactions, and may simply select it from the list.



tip

If you do not wish to have customer credit card information saved in the store's database, set the Retain All Credit Card Data system setting, through [Admin > System Settings] to NO.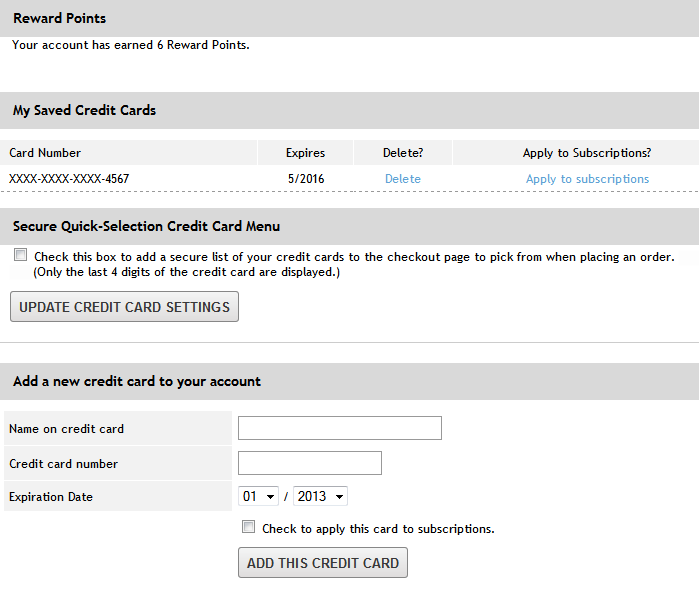 Customer News


The Customer News section is used to display news messages to your customers.

General News -- used to display a general message for your customers to view. This could be about an upcoming sale, promotional code, company anniversary, etc.
Customer-Specific News -- used to display a message specific to that particular customer.
Subscriber News -- used to display a message specific to the customer's active subscription product(s).
for more information...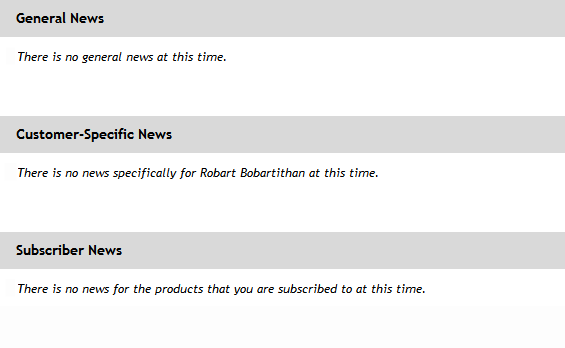 Customer Wish List


The Customer Wish List section displays all the customer's wish lists. Customers may create new wish lists, and the entries for items in their current lists.



for more information...