quote

I'm having trouble with outgoing emails using Microsoft Outlook. I can receive incoming emails with no problem, but the outgoing emails are stuck in the Outbox. Please help.


In our experience, this most commonly occurs when:
The IP (255.255.255.255) provided by your ISP (Internet Service Provider) has been blacklisted by one or more anti-spam organizations.
The wrong Outgoing Server (SMTP) Port is being used.
Has my IP been blacklisted?




quote

How can I tell what my IP is, or that it is blacklisted?


There are many websites that will tell you what your IP is. These same websites most often will also provide tools to check if your IP is listed by anti-spam organizations (such as spamhaus.org, shlink.org, sorbs.net, apews.org, etc.).

A couple sites used to check your IP is can be viewed below:

WhatIsMyIPAddress -- http://whatismyipaddress.com
WhatIsMyIP -- http://whatismyip.com
Google -- http://www.google.com



It's as easy as a Google search.


Once you have determined your IP, use a blacklist check to determine if your IP has been blacklisted:

WhatIsMyIPAddress -- http://whatismyipaddress.com/blacklist-check
MX Toolbox -- http://mxtoolbox.com/blacklists.aspx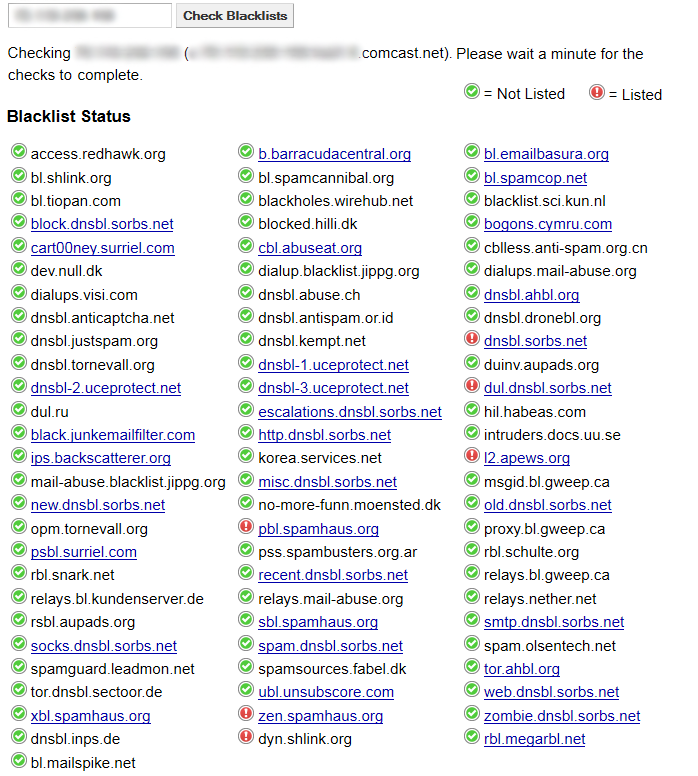 Blacklist check via

WhatIsMyIpAddress.com

.


If your IP is listed by any of the companies listed in the blacklist check, it is likely that this is what is preventing outgoing email from being accepted from that IP. To resolve this, we recommend contacting your ISP, to either:

a) Be assigned a different IP from them
-or-
b) Have them contact the appropriate companies to have the blacklist removed.



note

Modular Merchant cannot do anything to change the blacklist status of the IP, as it is owned by your ISP.




Am I using the correct ports?


The well known POP3 (incoming server) and SMTP (outgoing server) ports are:

Incoming Server (POP3) Port: 110
Outgoing Server (SMTP) Port: 25

These are usually the standard, default ports that networks use for incoming and outgoing email. If the wrong outgoing server port is being used, this could definitely be a contributing factor to the stuck emails.

Some ISPs are beginning to block the well known ports of 110 and 25, and It may be necessary to use an alternative port:

Incoming Server (POP3) Port: 995
Outgoing Server (SMTP) Port: 465, 587 or 26

The SMTP and POP3 ports can be changed through the Advanced settings for your email account(s) in your email management program (such as Outlook).

Using Microsoft Outlook 2007 as an example:



1. Locate [Tools > Account Settings...]
2. Select an E-mail Account, and click Change... (or double-click the name).
3. Click More Settings...
4. Select the Advanced tab.
5. For the Server Port Numbers, you may change the set ports.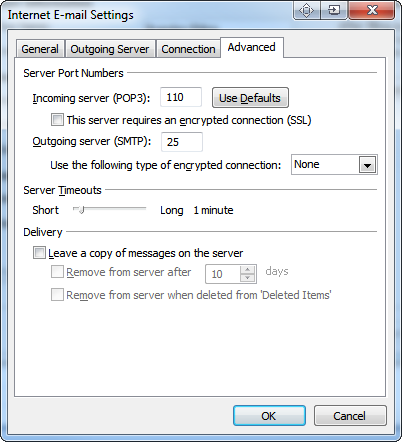 The POP3 port is set to 110 and the SMTP port is set to 25.


6. Click OK.


note

If an incorrect port is the source of the problem, then all of your email addresses should be unable to send outgoing email. If the outgoing emails are only becoming stuck for email addresses from a specific domain, then the issue is probably not with your port settings.

for more info...




Frequently Asked Questions


Q: All of my other email addresses work fine, except the few associated with my Modular Merchant account. For instance, I have 3 others I use with Outlook, with the same IP, and they work fine. Why is this?

A: It is possible that different networks reference different blacklists. With this in mind, the network managing the other domains (for the working email addresses) could be referencing different blacklists than the network that the Modular Merchant servers are hosted with.

Q: Why was my IP blacklisted?

A: Whoever your ISP assigned that IP to before you was probably sending out spam through it. ISPs (such as Comcast) change the IPs assigned to their customers every once in a while, so the issue may resolve itself as soon as they assign you a new one. As mentioned previously, it is also recommended to see if they can manually assign you a new IP.